WifeBucket is all about real amateur wives and MILFs and all of their small imperfections and flaws.
You know what I mean – saggy tits and a flat butt; wrinkles and a few extra pounds here and there, etc. In short – real women and not plastic pornstars.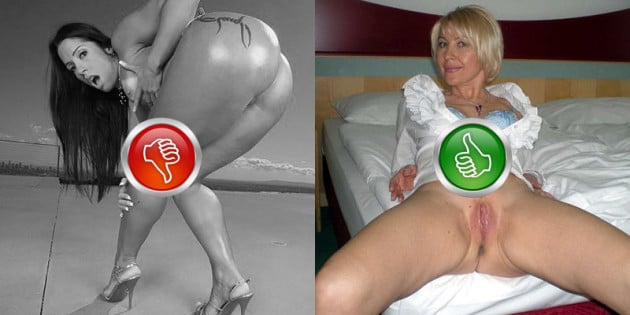 But every now and then we get a submission from a genuine amateur wife who looks as if God took a day off from everything else just to chisel her with great care and dedication. Today we give you Kayla, an ex-gymnast turned trophy wife for a lucky guy from LA (not to be confused with Kayla Williams).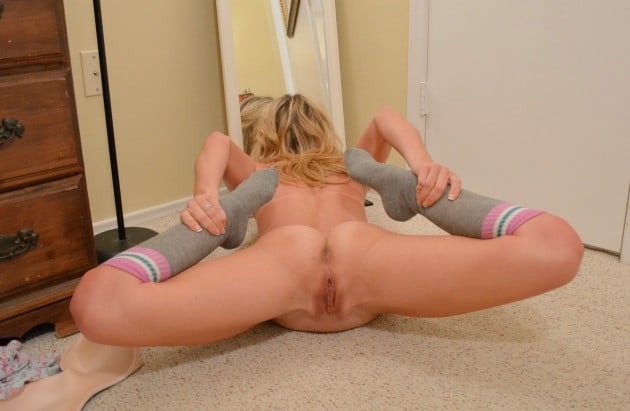 Kayla is now over 30 but still keeps her shape and flexibility because she knows how much her husband loves that 😉 She's been a gymnast since childhood and even took part in the 1998 NCAA Women's Gymnastics Championship. Unfortunately, she never became a pro. Fortunately, she scored a rich husband who adores her 😉



This hot bimbo knows how much hubby loves her perfect shape – and she's always ready to pose naked or in sexy lingerie for him. Brian really likes to take hot nudes of his perfect wife – when submitting the pics to WifeBucket, he mentioned having over 3,000 photos of Kayla…

Kayla is no stranger to dildos too – because when you're giving a show to your horny husband, you'd better go all the way 😉

This bimbo also knows about the power of the lingerie and the high heels – not that she really needs them with that hot body and all – but a little something extra can never hurt 😉


She might not be an Olympic-Gold-Medal material but God compensated by making her the perfect sex toy – a beautiful face, a perfect body, and a true love for cock…


This real wife has a pussy that is worth a thousand words, a poem, a sculpture, but most importantly – a big hard cock. Word on the street is that hubby takes care of that properly but we still haven't seen real sex pics of Kayla – Brian, we are talking to you 😉


WifeBucket has lots of Kayla's nudes and it's only a matter of time before we get her homemade sex pics – right, Brian? 😉 Don't feel pressured by us but, please, submit them any day now!
WifeBucket is the site which publishes any user-submitted photo or video you might send (as long as it's legal). We focus on average, every-day amateur wives and MILFs – regardless of how flawed (or perfect) they might be.
Kayla is a rare commodity inside our member area – not everyone is as perfect as her. But that is exactly what makes WifeBucket real and homemade – we're not into plastics, fakes, and Photoshopped women 😉
Take a look at our homepage and see for yourself 😉